NaviStyle™ High-Back Camo Boat Seat - Mossy Oak Shadowgrass - Cordura
54917_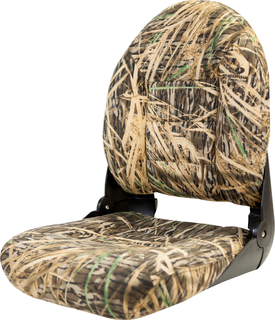 [tab name="Description"]

TEMPRESS Navistyle® High-Back Boat Seat



The Perfect Blend of Comfort and Durability for Big Water
This premium replacement seat is sewn with UV and abrasion-resistant polyester thread and boasts 500 Denier Cordura material to stand up to all the elements. It is constructed with a water resistant molded foam base, an integrated lumbar support for prolonged comfort, and a heavy-duty design featuring high-impact polypropylene. This seat has been a preferred choice with top U.S. boat builders for years and features a patented no-pinch hinge with an automatic fold-down locking tab for trailering and running. A universal seat bolt pattern is molded into the frame to accept any 5-1/4" mounting system or pedestal. Stainless steel mounting hardware with Loctite patch is included. Ideal replacement for helm seats, pedestal-fishing seats, ice shelters, duck blinds—even mobility scooters.
[tab name="Dimensions"]
Brand: TEMPRESS
Warranty: 1 Year
UPC: 079035549174

23 1/2" H X 18 1/8" W X 19 1/2" D
[tab name="FAQ"]
Q: Can I buy replacement cushions for the NaviStyle™ seats?
No, the NaviStyle cushions are not sold as replacements.
Q: Can I use the Quick Disconnect Kit with this seat?
No, the Quick Disconnect Kit is only compatible with the All-Weather and Profile Guide Series seats.
Q: What is the bolt hole pattern for the mount?
The bolt hole pattern under the seat for the mount is a universal 5 ¼" square.

Q: Is there a model number on the bottom of this seat shell?
Yes, the shell model number on the bottom of the seat is T4500, and is only indicating the style of the shell, not the color of the seat.
[tab name="Videos"]