[metaslider id=1017]
The Navistyle™ Series seat is the perfect blend of ergonomic comfort, craftsmanship and styling. The thick, molded foam base and back is covered in 30 oz. marine grade vinyl, provides lumbar support and the tapered sides allow for lateral movement desired by active users.  The Navistyle™ Series also features our patented "no-pinch" hinge with automatic locking adjustment to secure the seat in the folded position while running or trailering.  The injection molded polypropylene seat shells provide added durability to ensure long lasting comfort. The Navistyle™ Series will fit most standard seat pedestals, swivels and slides and is available in both High-Back and Low-Back styles. Shop Navistyle™ Seats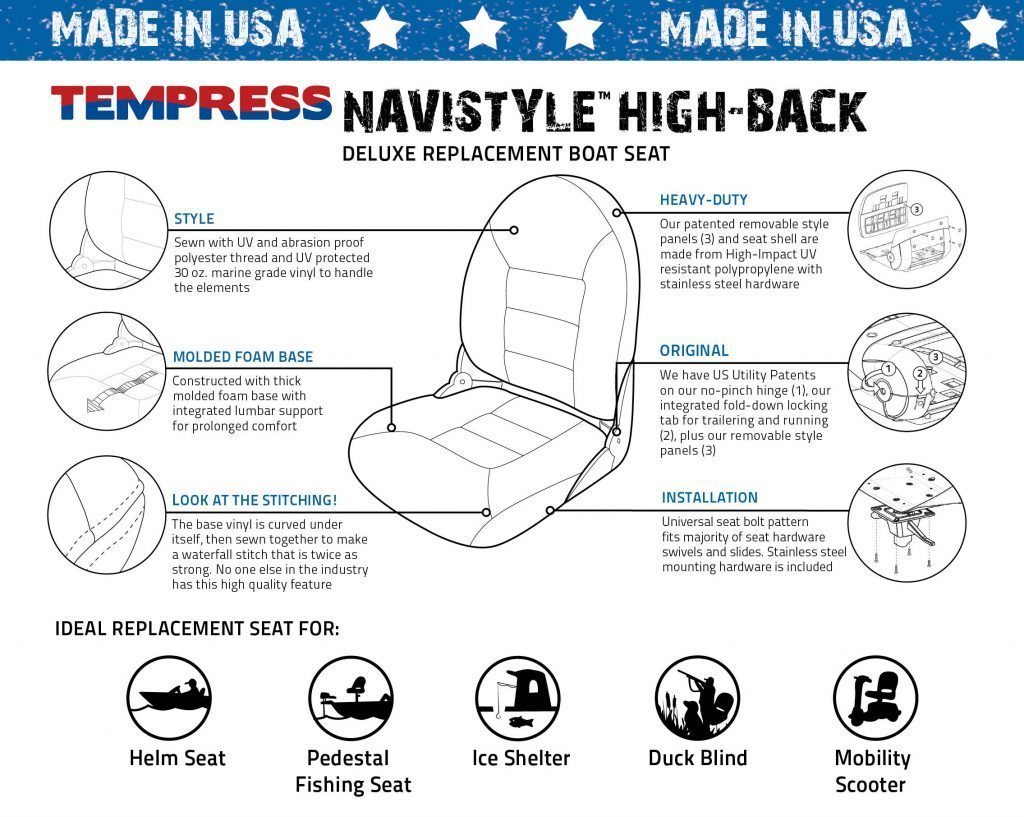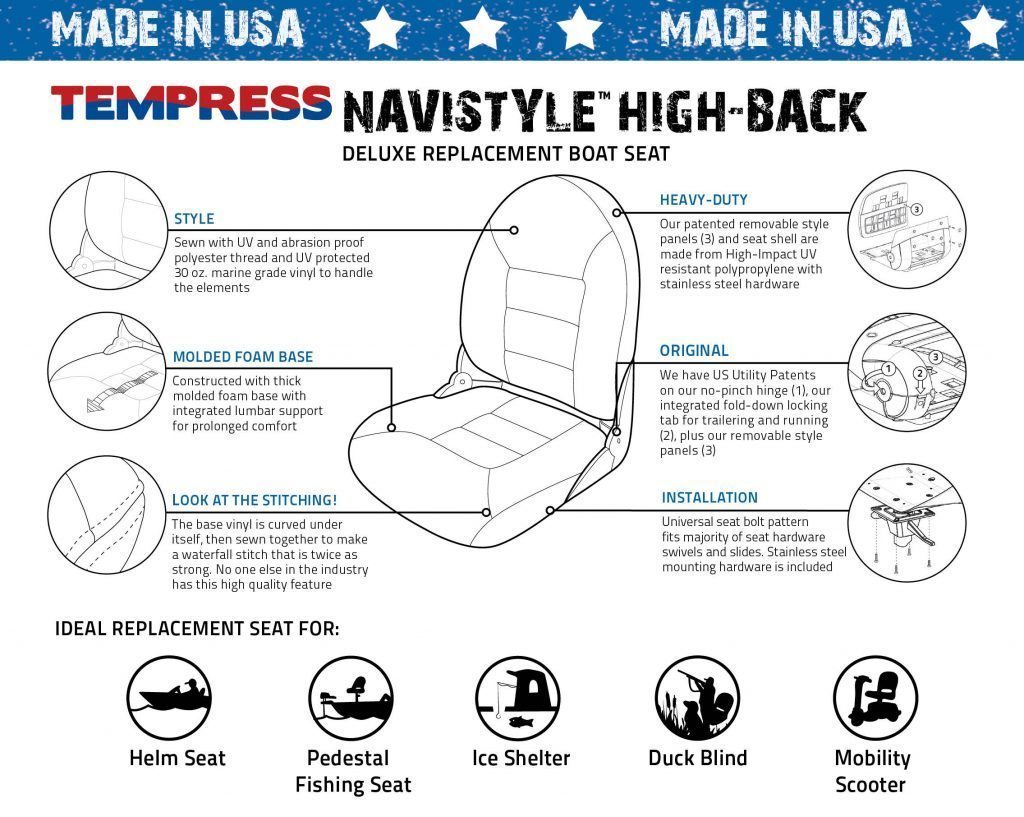 An In Depth Look at the Navistyle™ Boat Seat
President and CEO Mark Lozelle goes in depth on our best selling boat seat.
The Navistyle™ series seats are made in the USA and have several patented features that have made this seat a long standing favorite among boat builders and consumers.
Navistyle™ Details
---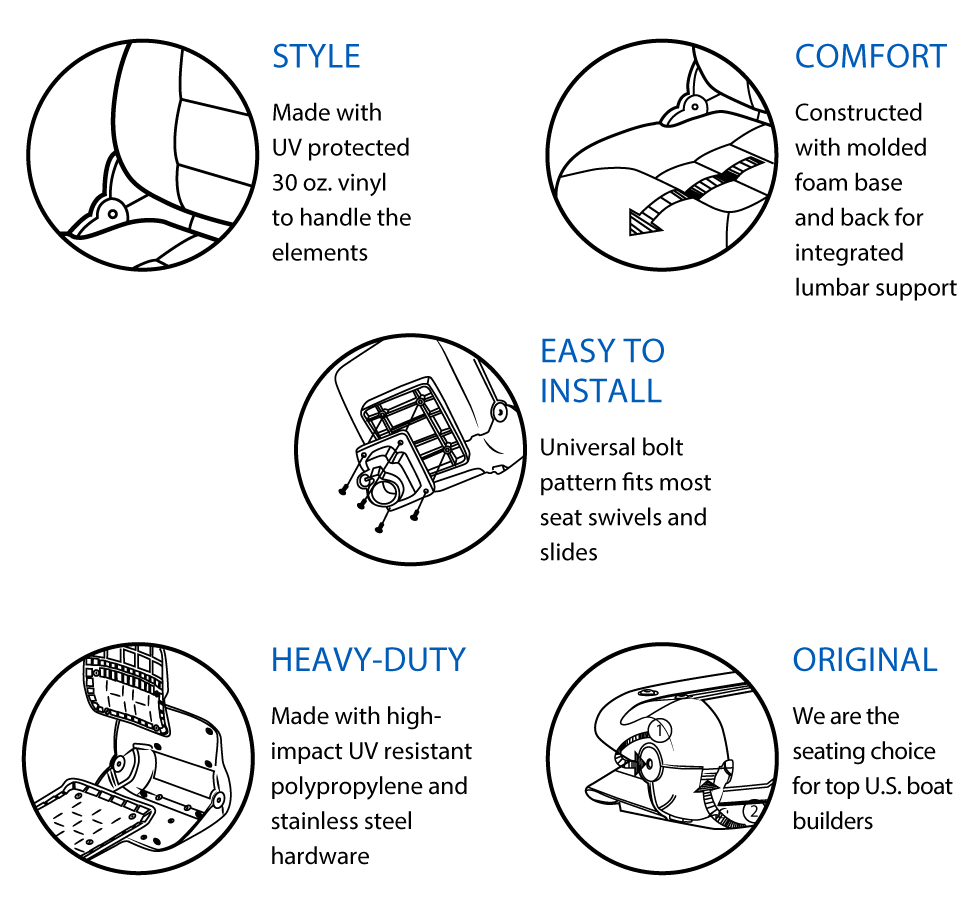 ---
Watch our Boat Seat Stress Test!
Here we show our Impact Seat Test Stand developed by the ABYC Amercian Boat and Yacht Council. It consists of an 8 foot long, 280 pound boom, that impacts the seat with tremendous force. Every Tempress boat seat must pass this test to ensure they do not deform after heavy impact and stress. The competition fails miserably in 3 critical areas.
Testimonials
"I am a Striper guide on Lake Texoma and wanted to take a minute to thank you for such great quality products from your Navistyle seats to the almost in-destructible Fish-On! Rod Holders. Your products continue to make my business a success. Un-matched quality and dependability. Thanks!"

Gary Scarberry Lake Texoma, OK

"I just purchased 2 white NaviStyle hi-backs for my new Carolina Skiff. When they arrive, to my surprise, they have "Made in USA" stickers on them and it appears they were made in TX. I am very happy about this. I was debating between these and some that were a bit cheaper. Had I known these were made in USA it would have been a an easy choice to pick these. I always try to support US made products. I don't buy a lot of seats, but Tempress will be my seat of choice from now on. Great looking seat! Even better looking "Made in TX" sticker!"

Randy Shrimplin TX

"Since you were so helpful to me this past summer, I thought I would drop you a note and let you know that I am very satisfied with the three seats I purchased from Tempress. I am in Florida where I keep my boat for my three month stay in the winter and have installed them on the boat. The colors go well with my boat, and best of all they are very comfortable. My fishing friends really appreciate them as well. Just a note to say thank you for your help and to let you know you have a satisfied customer."

Carl Brown Centerville, OH