ProBax Orthopedic Camo Series
PB5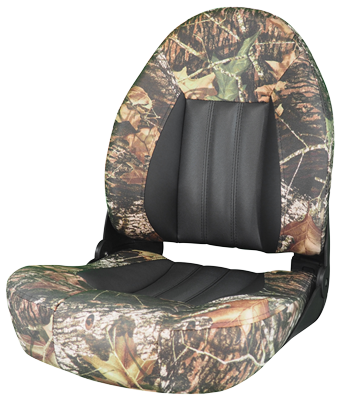 [tab name="Description"]
Better Blood and Oxygen Flow Diminishes Neck and Back Pain

TEMPRESS has teamed up with leading US Spinal Surgeons and Ergonomic Experts to create the break-thru patented ProBax® Seat. ProBax® is the only seat clinically proven to provide optimal long-term back and upper body support. This seat comes equipped with a patented base and back dual core foam support system only available thru TEMPRESS.This system is also water resistant and durable for prolonged use. The ProBax® is sewn with UV and abrasion-resistant polyester thread and covered in 30-oz. marine-grade vinyl to stand up to all the elements. A universal seat bolt pattern is molded into the frame to accept any 5-1/4" mounting system or pedestal. Stainless steel mounting hardware with Loctite patch is included. Take control of your boating and fishing experience, take control of your body and upgrade to the ProBax™ by TEMPRESS. Made in USA.

[tab name="Dimensions"]
Brand: TEMPRESS

Warranty: 1 Year

23 1/2" H X 19 1/2" W X 19 1/2" D

[tab name="FAQ"]
Q: Can I get this made in a different color?
Please email us directly at csr2@tempress.com to discuss possible custom color options, pricing and lead time.
Q: Can I get armrest to match this seat?
Yes, we do have armrest available. Please visit our armrest category. https://tempress.com/store/Deluxe-Powder-Coated-Bl...
Q: How do I clean the material?
Please see the link to the manufacture of this material. Where cleaning recommendations are available. https://spradlingvinyl.com/catalog-patterns/sim-07...

Q: Can l use the TEMPRESS Quick Disconnect Kit with this seat?

No, the Quick Disconnect Kit is not compatible with the ProBax Series seats.

Q: Is this a folding seat?

Yes, this is a folding seat that has a built in locking mechanism to keep the seat in the down position when trailering or running from spot to spot on the lake.

Q: My current seat has a part number of T4500 on the bottom of the hard plastic seat shell, is T4500 this seat?

T4500 is indicative of the shell style only, not of the color, foam style or pattern of the seat. If your seat has T4500 on it this seat is a similar style locking seat shell. Please feel free to contact us to help you identify your seat further if necessary.
csr2@tempress.com