NaviStyle™ Low-Back Boat Seat - Gray
54670_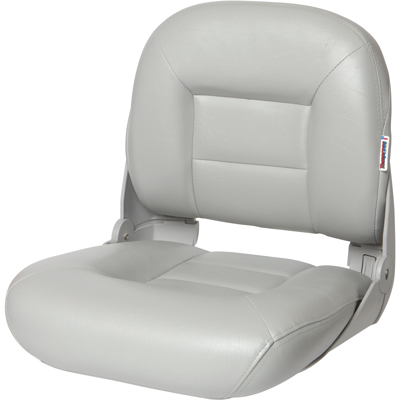 [tab name="Description"]

The Low-back Navistyle™ Seating System is a perfect blend of ergonomic craftsmanship and smooth functionality. Subtle curves provide lumbar support while the tapered sides allow for the lateral movements desired by active users. The Navistyle™ also features our exclusive "no-pinch" hinge, with automatic locking mechanism that secures the seat in the folded position. All TEMPRESS boat seats will mount to most seat swivels or slides with the built in Stainless Steel T-Nuts, and include Stainless Steel mounting hardware as well.
[tab name="Dimensions"]

Brand: TEMPRESS

Warranty: 1 Year
19 1/2" H x 18 1/8" W x 19 ½" D

[tab name="FAQ"]
Q: How much higher is the High-Back Navistyle compared to the Low-Back Navistyle?
The High-Back's back cushion is approximately 3" higher at the top center of the cushion thank the Low-Back. The seats are nearly identical.
Q: Can I use these seats in a bench style set up?
Yes, you can use the seats in any configuration as long as you have access to mount the seats securely to your boat or any flat surface.
Q: Does the seat lock in the upright position?
No, the seat only has the ability to lock in the down position only.

Q: Can l use the TEMPRESS Quick Disconnect Kit with this seat?

No, the Quick Disconnect Kit is not compatible with the ProBax Series seats.

Q: Is this a folding seat?

Yes, this is a folding seat that has a built in locking mechanism to keep the seat in the down position when trailering or running from spot to spot on the lake.

Q: My current seat has a part number of T4500 on the bottom of the hard plastic seat shell, is T4500 this seat?

T4500 is indicative of the shell style only, not of the color, foam style or pattern of the seat. If your seat has T4500 on it this seat is a similar style locking seat shell. Please feel free to contact us to help you identify your seat further if necessary.

csr2@tempress.com
[tab name="Videos"]
UPC:079035546708
Warranty:1 Year
Seat Shell Model Number:T4500
Compatible With Quick Disconnect?:No
Mounting Bolt Pattern:7 1/2" x 7 1/2"