Larko Brown Trout Cushion and Wrap Combination - 35QT
90978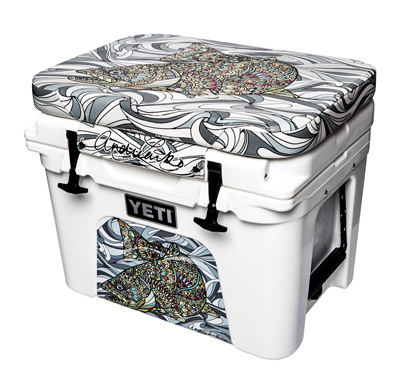 [tab name="Description"]

We are proud to introduce our new ARTIST SERIES Cushion/Wrap Combination that exclusively fits on YETI® Coolers.
Our love for the outdoors and our eagerness to push the design envelope has allowed us to develop this unlikely pairing of Coolers and ART. You can now show your love and appreciation for ART and for YETI® Coolers in style at the ranch, on the water, at a tailgate, and/or any party with this one of kind offering.
Each Limited Edition Combination was designed exclusively by the Artist to assure authenticity and to validate that every detail was captured within each offering.This gives you an amazing opportunity to display and celebrate some of fishing's favorite artists on your YETI® Cooler.
You will receive a state of the art digitally printed cushion licensed by the ARTIST, a matching die-cut ARTIST wrap for the front and back of your YETI®, stainless steel mounting hardware, and easy to follow installation instructions.

Each cushion simply snaps to the cooler lid after installing the stainless steel screw studs and the wrap easily glides onto the front and back of your ice chest when you use the plastic shim provided.Each wrap and cushion fits perfectly on your YETI® cooler with the cushion being made with dense 2" thick foam, tough UV resistant marine grade vinyl, and all stainless steel hardware.You will have the best looking YETI® everywhere you go!
TEMPRESS® has made marine seating since 1972 and we take a great deal of pride in producing a combination that matches the image and product excellence of the YETI® brand.

It's time to take your YETI® to a whole new level!

ARTIST SERIES Combination Kit Includes:
• Custom ARTIST Cushion made by TEMPRESS®
• Custom ARTIST Wrap for the front and back of your cooler
• Installation hardware and Instructions
ARTIST SERIES Custom Cushion Particulars:
• Cushion design was developed and approved from original ARTIST artwork
• Vinyl is UV protected for outdoor use
• Dense 2" foam pack designed for ultimate prolonged comfort
• Cushion pattern is made with precision machine cuts for superior quality
• All snaps and snap studs are stainless steel and are included.
• Easy to assemble and take-off cushion – snaps in place to assure proper positioning
• Cushion Dimensions: 35QT – 2"H x 21"W x 16"D (3lbs)
• Made in Dallas, TX USA by TEMPRESS®
ARTIST SERIES Custom Wrap Particulars:
• Wrap design was developed and approved from original ARTIST artwork
• Printed on hi tack vinyl with a gloss finish
• Same material that is used for boat, RV, and trailer wraps – meant to be outside
• Wrap pattern is made with precision die cuts to be perfectly placed on the front and back of your YETI®
• Cleans easily and is very durable
YETI® cooler is not included.
[tab name="Dimensions"]

Brand: TEMPRESS

UPC: 079035909787

2"H x 21"W x 16"D (3lbs)