All-Weather™ Low-Back Boat Seat & Cushion Combo - Red / Gray
45254_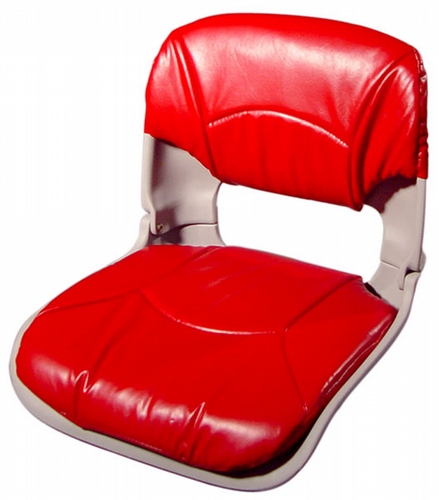 [tab name="Description"]

The All-Weather™ Low-Back Boat Seat Combo has been a durable standard for over 20 years. With its bullet proof design and heavy duty construction, these seats might even outlast your boat. Not just durable, but comfortable as well, the All-Weather™ features a double contoured seat pan that eliminates pressure points. Stainless Steel hinge pins secure the fold down back and included 1/4" x 20 t-nuts allow mounting to any standard marine swivel, or seat spider. The All-Weather™ Seat Shell will also accept our proprietary Quick Disconnect Mounting Kit for even more functionality. Includes custom fitted cushion, (also avaliable as a replacement item). These cushions feature welded seams that inhibit water intrusion, marine grade UV stable vinyl, and high density foam inserts.
[tab name="Dimensions"]

Brand: TEMPRESS

Warranty: 1 Year

UPC:079035452542

17 1/2"H x 18 "W x 17"D

[tab name="FAQ"]
Q: How can I tell if I have an All-Weather™ High-Back or Low-Back Seat?
Check the seat back length – See below
"High Back"
1) In the folded position, the backrest and seat are the same length.
2) The bottom seat cushion slides onto the seat shell (such as a pillowcase) and snaps to the back underside.

"Low-Back"
1) In the folded position, the backrest is approximately 1 3/4 inches shorter than the seat.
2) The bottom seat cushion snaps directly to the top of the seat shell in front and snaps to the back underside.
Q: Can you make cushions like the ones I already have?
No, the only cushions available are the color and style options shown online.
Q: Does it come in any other colors?
No, the only colors available are shown online for purchase.

Q: Is the Quick Disconnect Kit compatible with this seat?
Yes, the Quick Disconnect Kit works with the All-Weather Low-Back and High-Back seats.
[tab name="Videos"]