1323 Cam Hatch w/o lock - Black
44539_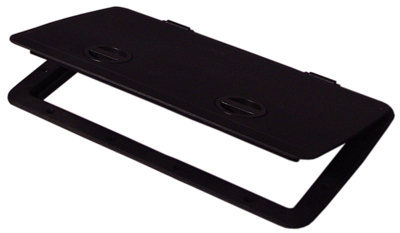 [tab name="Description"]

The TEMPRESS Line Of Access Hatches are as functional as they are stylish. The Access Cam Hatch is made from a glass filled polypropylene, for strength and durability. All Access hatches are designed for heavy traffic areas, and will withstand people walking or standing upon them. The 1323 Access Cam Hatch features two dog down latches, that compress the gasket to create a weather tight seal with a quarter turn of the wrist. Access Hatches also utilize a patented integral hinge assembly that allows for easy lid removal. The beveled and skirted lid covers all fasteners for a clean look above or below decks. The Access Cam Hatch line is the perfect choice for easy dry storage, access to bait or fish wells, or electrical and plumbing lines.

[tab name="Dimensions"]

Brand: TEMPRESS

Warranty: 1 Year

Compatible Liners: 41504, 41506, 41518

Compatible Gasket: 70065

Product Size 1323 Cam Hatch:

1323 Cutout = 10 7/8" x 20 13/16"
1323 Inside = 9 3/8" x 19 1/2"
1323 Outside = 13" x 23 1/4"

Fasteners Required 12ea. #12 Pan Head self tapping screws
[tab name="FAQ"]

Q: Can I walk on your hatches?
Yes, our hatches are constructed with glass filled polypropylene and designed to be walked on.

Q: Are white and gray the only colors your hatches come in?
Yes, except for the 1115 black cam hatch which is available only on a limited basis.

Q: Can I get a different size hatch than what is shown online?
No, all sizes offered are shown online for purchase.

[tab name="Videos"]