High Back All-Weather™ Boat Seat & Cushion Combo - Gray
45602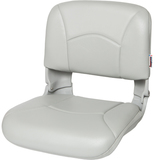 All-Weather™ High Back Series
The All-Weather™ High Back Seat has been a durable standard for over 20 years. With its bullet proof design and heavy duty construction, these seats might even outlast your boat. Not just durable, but comfortable as well, the All-Weather™ features a double contoured seat pan that eliminates pressure points. Durable hinge pins secure the fold down back and included 1/4" x 20 t-nuts allow mounting to any standard marine swivel, slide, or seat spider. The All-Weather™ Seat Shell will also accept our proprietary Quick Disconnect Mounting Kit for even more functionality. Includes custom fitted cushion, (also avaliable as a replacement item). These cushions feature a wrap around design, 30oz marine grade UV stable vinyl, and high density foam inserts.
The High Back All-Weather™ Boat Seat Combo dimensions are 18 1/2"H x 18 1/4"W x 17"D.

UPC:079035456021
Warranty:1 Year
Compatible With Quick Disconnect?:Yes
Mounting Bolt Pattern:7" x 7"